Raith EBPG 5000+ Electron Beam Lithography System
The EBPG 5000+ is a state-of-the-art Gaussian beam vector scanning electron beam lithography system.
Acceleration Voltage: 100 kV
Maximum Field Size: 1024 x 1024 µm2 (20 bit)
Maximum pattern generator frequency: 50 MHz
Beam current: 50 pA to 300 nA
Substrate size: 1 to 15 cm
Exposure Resolution: < 10 nm
Field Stitching Accuracy: 20 nm (mean + 3σ)
Overlay Accuracy: 20 nm (mean + 3σ)
Positioning Accuracy: 0.6 nm (interferometric stage)
Pattern fracturing, and the associated options and capabilities, is the heart of Layout BEAMER package. The Layout BEAMER software interprets design data and converts it into the formats needed to write with the EBPG 5000+ system.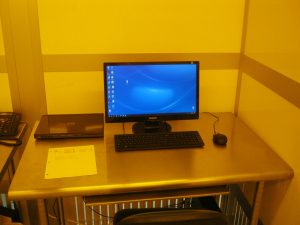 Input File Format: All major formats (GDSII, CIF, DXF, LTXT, bitmap)
Integrated Layout Editor
Layout Operations (healing, biasing, tone reversal, merge, Boolean operations)
Proximity Effect Corrections (PEC)
Advanced fracturing (arbitrary shapes, curved fracturing, field position control)
Output File Format: GPF
Single user (one at a time), floating (network) license
Nanolithography Wetbenches
The Wallberg Nanolithography Facility hosts two VPFX-6 microzone wetbench stations dedicated to substrate cleaning, EBL resist spin coating, curing, development and removal.
Provides a class 100 (ISO Class 5) working environment
Segregated, dedicated wetbench stations and resist spinners for positive tone & negative tone resist preparation
Vacuum enabled, dedicated hotplates with digital control
Includes DI water, nitrogen gas utilities and all necessary chemical supplies for EBL resist preparation
Thin Film Thickness Measurement System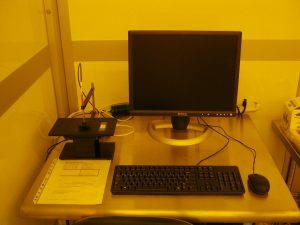 The Thin Film Thickness Measurement System provides a quick and reliable solution for measuring the thickness of translucent or low absorbing thin films from 10 nm to 50 um with 380 nm – 1000 nm spectral range. The measurement is based on specular reflectance and uses tungsten halogen light source (360-2400 nm), high-resolution spectrometer, 400 µm diameter fiber optic reflection probe, and a manual stage. User-friendly software (TFCompanion) complements the setup.
ShelLab 1330GM Gravity Convection Oven
The ShelLab 1330GM Gravity Convection Oven is hosted by the Wallberg Nanolithography Facility and is used primarily for post-bake of electron beam lithography resists on sample substrates.
Recovery Time: 10 minutes at 150°C
Heat-up Time: 15 minutes to 150°C
Temperature Uniformity: ± 2.0°C at 150°C
Temperature Range: 40ºC to 240ºC
Digital electronic timer
Nikon Eclipse LV100 Microscope
Nikon's Eclipse LV100 microscope, available in diascopic and episcopic microscope illumination modes, produces bright, clear, and high contrast images. The microscope has 4 objectives (x5, x10, x20, x50, x100), a 6 x 4" stage and a DS-Fi1 camera. Image processing is possible with the Nikon NIS-elements D3.0 imaging software.